Article Post by: Urbane Life 09/03/2012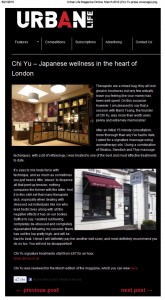 Therapists are a mixed bag; they all look great in brochures but very few actually leave you feeling like your money has been well spent. On this occasion however, I am pleased to say that a session with Mami Tsang, the founder of Chi Yu, was more than worth every penny and extremely memorable!
After an initial 15 minute consultation; more thorough than any I've had to date, I opted for a signature massage using aromatherapy oils. Using a combination of Shiatsu, Swedish and Thai massage techniques, with a bit of reflexology, I was treated to one of the best and most effective treatments to date. Read more (article link) or PDF version.
(Note: any prices mentioned are subject to change, please check when enquiring)
Watch our video about Reflexology as mentioned in the review