chi yu Wellbeing
Our wellbeing treatments are focused on improving your wellness and health holistically and are often used in conjunction with other treatments, such as massage therapy. We have acupuncture, ear acupuncture, holistic and oriental aromatherapy, craniosacral therapy, cupping and manual lymphatic drainage. For more details about each therapy, please watch our introductory videos below or click the Descriptions of Treatment button to reveal more information. If you require more information or guidance as to which treatment would be best for you, please feel free to call.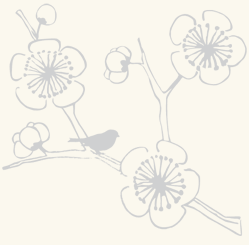 Description of Treatment
Acupuncture has been practiced in Asia for thousands of years and it has been proven to help with a range of aches and pains, acute and chronic conditions.  Fine, sterilised acupuncture needles are inserted gently in certain points located on the body – which can include the face, ears and feet – to promote the flow of the vital energy, known as chi (Qi in Japanese) and encourage the body's own healing process. We recommend booking a 60 minute treatment  for your first acupuncture session.
"A growing body of evidence-based clinical research is discovering how the body responds to acupuncture and its benefits for a wide range of common health conditions. A lot of people have acupuncture to relieve specific aches and pains, such as osteoarthritis of the knee, TMJ, headaches and lower back pain, or for common health problems like an overactive bladder. Other people choose acupuncture when they can feel their bodily functions are out of balance, but they have no obvious diagnosis. And many have regular treatments because they find it so beneficial and relaxing"
[source: British Acupuncture Council]
Read more about acupuncture here
Oriental Aromatherapy
Book Now 
Description of Treatment
Oriental Aromatherapy is a therapeutic integration of aromatherapy and oriental medicine. Specific organic essential oils and carrier oils are selected based on your concern and the Oriental diagnosis derived during consultation and are applied to the skin through acupressure and meridian massage to balance the Qi and restore health.
Holistic Aromatherapy
Book Now 
Description of Treatment
Holistic Aromatherapy is a therapeutic treatment that uses the essential oils to bring harmony to body and mind. Essential oils are the vital life essences extracted from various part of plants, fruits, flowers and trees. Each essential oil contains powerful natural chemicals, that have therapeutic properties to alleviate physical and emotional stress.
All of our essential oils are of high quality and grown organically or wild. Based on your needs and preference, a unique blend of essential oils will be chosen and mixed with a suitable carrier oil before being applied to the skin. Essential oils are absorbed into the body through the skin by massage and inhalation through the nose. Molecules within the oils enter through the bloodstream into the nervous system, influencing your emotional and physical well-being. The scents released by the essential oils also act on the hypothalamus, the part of the brain influencing the hormone balance and nervous system so that the inhalation of the oils can improve immune system, your mood and relieve stress.
The combination of massage, inhalation and therapeutic quality of essential oils can soothe, revitalise, uplift your mind and body and support the body's own healing ability.
Craniosacral Therapy
Book Now 
Description of Treatment
A gentle yet extremely powerful therapy where, by using light-touch contact, your therapist identifies tensions and restrictions within the body resulting from physical or emotional stress. Craniosacral therapy promotes your body's own healing ability to release these tensions.
Craniosacral Therapy for Babies
Book Now 
Description of Treatment
Mother & Baby Craniosacral Therapy is so gentle and non-invasive that it is ideal for newborn babies. It helps babies and toddlers, who tend to cry all the time, are constantly screaming and have poor sleeping patterns, by releasing these held patterns of stress and preventing further anxiety. The treatment is carried out fully clothed and the mother may also be treated along with her baby where appropriate.
Description of Treatment
Suction cups are applied on key acupuncture points or areas on the body to encourage the flow of Qi as well as circulation. Cupping therapy is incorporated into acupuncture treatments.
Manual Lymphatic Drainage
Book Now 
Description of Treatment
Manual Lymphatic Drainage (MLD) is an advanced form of massage therapy whereby a range of specialised massage and gentle rhythmic pumping techniques are applied to move the skin in the direction of the lymph flow. This stimulates the lymphatic vessels that carry substances vital to the defence of the body and removes waste products. The first visit will include a consultation during which the therapist will recommend the number and frequency of future sessions. Each session will last approximately one hour or longer as needed. Where appropriate the therapist will work in conjunction with your medical practitioner.
MLD is both preventative and remedial and can enhance your well being. Furthermore, MLD:
Is deeply relaxing

Promotes the healing of fractures, torn ligaments, sprains and lessens pain.

Can improve many chronic conditions: sinusitis, rheumatoid arthritis, scleroderma, acne and other skin conditions.

May strengthen the immune system as part of "detox" treatment.

Relieves fluid congestion: swollen ankles, tired puffy eyes and swollen legs due to pregnancy.

Promotes healing of wounds and burns and improves the appearance of old scars.

Minimises or reduces stretch marks.

Can be used to speed healing after cosmetic surgery